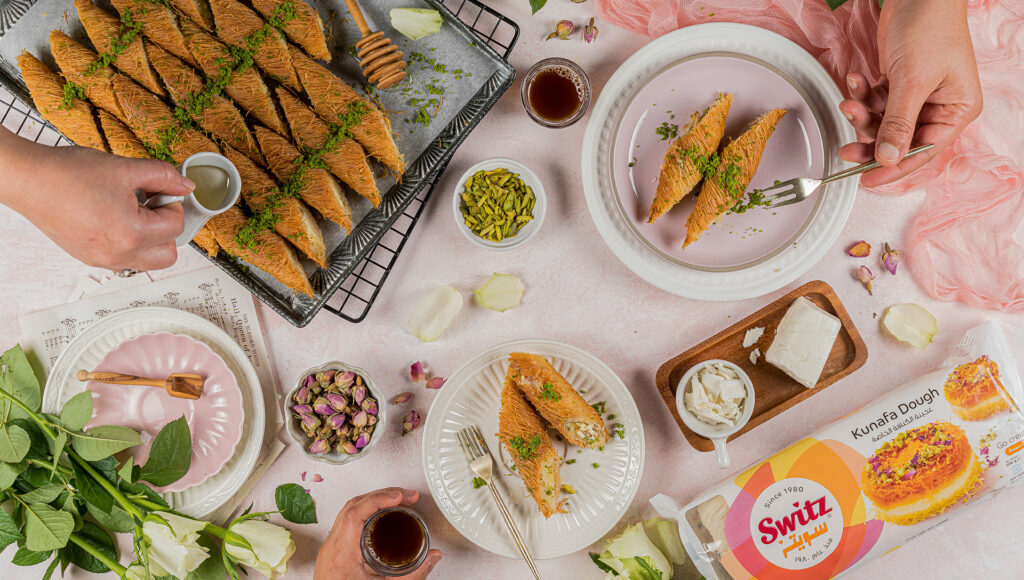 Known and loved by all, the adored Kunafa needs no introduction!
Here are some of our tips and tricks that we recommend you use the next time you feel the urge for some creamy and crunchy Kunafa:
1- Sugar syrup should be cold when drizzled over the warm knafeh/kunafa.
2- The kunafa/knafeh stays crunchy for several days in the fridge.
3- To rewarm leftovers, place them in an oven-safe pan, cover them with foil and reheat for 10-15 minutes.
4- You can assemble the Nabulsi knafeh/kunafa a day ahead and bake it right before serving!!
5- The best substitute for Akkawi cheese will be a mix of mozzarella and ricotta cheese!
6- Akkawi cheese needs to be desalted. Cut the cheese into squares, cover with water and soak it for 8 hours, changing the water every 1 hour reduces its saltiness.
7- You need to clarify the butter (clarifying the butter removes the milk solids which prevent the kataifi (Kunafa strings) /shredded filo pastry from burning while being baked in the oven). Clarify the butter in a heavy-bottomed saucepan, heat the butter over medium heat until it melts. Set it aside for 15 minutes. After 15 mins, you will notice the milk solids fall to the bottom. Strain it through a wire sieve lined with several layers of cheesecloth. Pour the melted butter over the cheesecloth and get rid of the milk solids.
We hope these tips will help you out on your next dessert adventure, follow us on our social media channels and share with us your tasty Kunafa creations!